Lifestyle
Egg-Topped Breakfast Pizzas : Ultimate Breakfast Pizza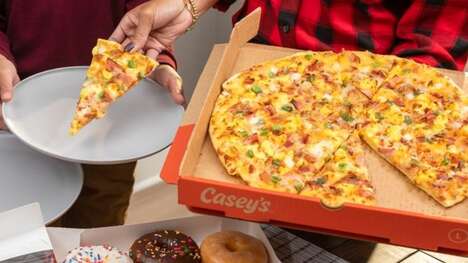 If leftover pizza is your idea of a perfect breakfast then you'll love Casey's new Ultimate Breakfast Pizza.
Just as the name suggests, Casey's new Ultimate Breakfast Pizza is a pizza that's fit for your first meal of the day. The dish consists of the brand's made-from-scratch dough, topped with a creamy cheddar cheese sauce, scrambled eggs, sausage, bacon, ham, green peppers, and onions. The whole thing is then finished with Casey's whole milk mozzarella and cheddar cheeses. The savory breakfast pizza is available in small, medium, and large sizes, and can also be served on a gluten-free or flatbread crust for an additional charge.
To celebrate the arrival of the new pizza, Casey's is running a promotion where you can a large Original Ultimate Breakfast Pizza for just $13.99 when you order online now through March 31, 2021.
Image Credit: Casey's