Lifestyle
Valentine's Oat Milk Chocolates : oat milk chocolates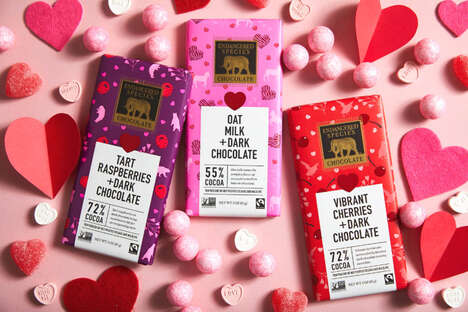 Endangered Species Chocolate created a Valentine's Day Trio of oat milk chocolates that boast special packaging and fun, fruity flavors. The classic Oat Milk + Dark Chocolate bar is a dairy-free product that combines 55% cocoa and creamy oat milk and it has the potential to not only share a smile on a special occasion but also bring awareness to Grevy's Zebra—the most threatened of the three species of zebra.
The decadent oat milk chocolate bar is said to be as smooth and sweet as milk chocolate but creamier with none of the dairy or excess sugar.
The trio also includes the Tart Raspberries + Dark Chocolate bar and the Vibrant Cherries + Dark Chocolate bar, which bring attention to the Grizzly Bear and Atlantic Puffin, respectively.